2011 GFC

2011 Chamber Bowl All-Star Game includes 4 GFC Players
Holy Spirit seniors Andy Moots and Ryan Casey along with North Georgia seniors Caleb Russell and Hunter Brumfield were selected to play in the 2011 Chamber Bowl All-Star Game. Moots and Casey played for the South team, while Russell and Brumfield played for the North squad. The Chamber Bowl features seniors from public, private, Christian and homeschool teams from the North Fulton and Forsyth County areas who are college prospects. The South defeated the North team. Congratulations to these players!
2011 Glory For Christ All-Star Team
Andrew Justus – Georgia Force # 5
Andy Moots – Holy Spirit Prep # 30
Austin Lowe – Christian Heritage # 22
Ben Touchton – Anderson Cavaliers # 73
Brian Pierce – Christian Heritage # 1
Caleb Russell – North Georgia # 17
Caleb Smoak – HSD Panthers # 59
Clay Mote – Georgia Force # 33
Cody Crandle – Georgia Force # 30
Correy Graham – Anderson Cavaliers # 76
Daniel Compton – East Atlanta # 44
Dante Stento – HSD Panthers # 87
David Allen – Georgia Force # 6
Dylann Watson – HSD Panthers # 4
Ethan Leggett – Georgia Force # 73
Garrett Ferguson – East Atlanta # 3
George Maranville – Holy Spirit Prep # 3
Gerald Fraylen – HSD Panthers # 5
Harrison Kranzlein – Christian Heritage # 55
Hunter Brumfield – North Georgia # 62
Jack Owen – Augusta Prep # 9
Jake Stowe – Christian Heritage # 16
Jamond Thomason – Anderson Cavaliers # 3
Jonathan Long – Augusta Prep # 27
Kevin Huggins – Augusta Prep # 42
Kolby Looney – Anderson Cavaliers # 36
Luke Voss – Holy Spirit Prep # 4
Luke Whelan – Holy Spirit Prep # 9
Marques Freeman – Georgia Force # 47
Matt Dennison – Freedom Academy # 96
Michael Adcock – Freedom Academy # 22
Michael Downing – Augusta Prep # 84
Nate Pylant – Augusta Prep # 5
Noah Keeling – North Georgia # 65
Orande Barrow – East Atlanta # 36
Patrick Page – Georgia Force # 32
Patrick Smith – East Atlanta # 14
Quinton Slade – Christian Heritage # 62
Ryan Casey – Holy Spirit Prep # 44
Sam Grisham – Holy Spirit Prep # 66
Sam Hardie – HSD Panthers # 3
Seth Defoor – Christian Heritage # 45
Todd Jones – Holy Spirit Prep # 12
Trevor Brown – Christian Heritage # 7
Whitt Rutland – Augusta Prep # 47
Will Blount – East Atlanta # 55
Will Jacobs – Holy Spirit Prep # 11
William Oppermann – Holy Spirit Prep # 72
Zane McDaniel – North Georgia # 23
_________________________________
GFC Champions: Holy Spirit Prep
2011 GFC Champions: Holy Spirit Prep Cougars
Holy Spirit hangs on to beat Christian Heritage 28-21
It was a great football game that was still undecided until the final play of the game. Holy Spirit was able to sack Trevor Brown of the Christian Heritage Lions and win the 2011 GFC Championship. Holy Spirit led for all of the first 3 quarters, but Christian Heritage would not give up. Benefitting from a bad punt, the Lions were able to knot the score at 14 late in the 3rd quarter. However, Holy Spirit came right back and drove the field to score and go back up 21-14. After recovering a fumble two plays later, the Cougars scored, making it 28-14. With 53 seconds to play, Christian Heritage was able to score and cut the lead to 28-21 then successfully executed an onside kicks, recovering the ball at the 49 yard line. With not much time left, the Lions had to pass their way downfield. After a costly sack by Holy Spirit, the Lions completed a pass and then benefitted from a penalty. However, precious time ran off the clock. With only seconds to play, Holy Spirit was able to sack the quarterback before he could throw and the time expired giving Holy Spirit the win and the Championship.
GFC Semifinals Results for Saturday, Nov 5th
Holy Spirit Prep defeats Augusta Prep 38-7
Christian Heritage kicks Georgia Force 27-26 in OT
GFC Playoffs: First Round – Saturday, Oct 29th
Augusta Prep defeated HSD Panthers 35 – 12
Augusta Prep took the opening kickoff and methodically moved downfield and scored to go up 7 – 0. They turned around and recovered the kickoff giving them a second possession without the Panthers touching the ball. Again the Cavaliers moved in for a second touchdown to make it 14-0 still in the first quarter. That didn't stop the Panthers as they took the kickoff and drove downfield for a touchdown to make it 14-6. On the next possession for Augusta Prep, they scored to go up 21-6. Not to be outdone, the Panthers were able to cut the lead back to 21-12 at the half, however, Augusta dominated the second half and came away with 2 more touchdown to make the final score 35-12.
Georgia Force holds off North Georgia 14
North Georgia scored the first 14 points of the game early in first quarter, however, they fumbled in the end zone giving up a touchdown to the Force to make it 14-6 at the half. The Force came out the second half and scored to cut the lead to 14-13 and it looked like that might be it as both defenses were able to shut down the offenses for most of the second half. With the Falcons backed up inside their own 12 yard line early in the 4th quarter, a fumbled handoff was recovered by the Force at the 8 yard line. The Force was able to score and went up 20-14. The Falcons had one drive left in them and took it down to near the 20 yard line, but were unable to get any closer.
___________________________________________________
East Atlanta Players participate in North-South All-Star game held at Skipstone Academy.
Front Row L-R: Caleb Carter and Orande Barrow. Back Row L-R: Khadyle Curry, Kenneth Wimberly and Will Blount.
____________________________________________________
GFC Regular Season Results
Game results for Friday, Oct 21st
Georgia Force 35 Anderson Cavaliers 0
Augusta Prep 43 East Atlanta 20

Christian Heritage (red jerseys) vs North Georgia
Christian Heritage 37 North Georgia 14
Sat: Holy Spirit Prep at Rabun Gap
Game results for Friday, Oct 14th & Sat, Oct 15th
Augusta Prep 28 Anderson 14
Georgia Force 36 Crown 6
Holy Spirit Prep 47 East Atlanta 14
Holy Spirit Prep QB Robert Moots completed all 5 of his pass attempts including 2 for touchdowns (1 to TE Todd Jones and 1 to Christian Jerrum) and had a 60 yard run as the Cougars beat the Mustangs. Holy Spirit had 265 yards rushing on 22 plays and threw for 84 yards. RB Kyle Winkler added 3 TD's on the ground and FB Andy Moots had 2 more TD's in a great offensive homecoming game performance for the Cougars. Lineman William Oppermann got into the action by running twice for the first time in his career for a total of 8 yards.
Christian Heritage 50 Freedom Academy 0
North Georgia 28 Horizon Christian 21
In a non-GFC game, the Falcons and the Warriors played a game in which the lead changed hands 5 times. Horizon Christian Warriors scored first and led 7-0 in the first quarter. In the 2nd quarter, the Falcons scored on a 1 yard run by Zane McDaniel after a long drive, but missed the extra point that made the score Horizon 7 North Georgia 6. The teams traded possessions until close to the end of the half when Mike Randle was able to escape from a Warrior tackler and run for a touchdown. Jack Edman was good on the extra point kick to make the halftime score (NG 13 HCA 7). The Warriors took the 2nd half kickoff and drove downfield to score. After the extra point kick was good, Horizon led 14-13. On the kickoff, Mike Randle was able to return the kick for a touchdown and Edman was good on the kick. The Falcons led 20-14, however, Horizon returned the kickoff all the way down to the 28 yard line. The Warriors then scored and were good on the kick to make the score 21-20. With about 3 minutes to go in the game and after a Horizon turnover, the Falcons were able to drive for another score. Zane McDaniel scored from the 1 yard line and Mike Randle scored on the 2-point attempt to give the Falcons a 28-21 lead. Horizon was able to drive down the field and get inside the 30 yard line, however, they were not able to score. The Falcons had the victory 28-21.
Game results for Friday, Oct 7th
Anderson Cavaliers 34 East Atlanta 28
Holy Spirit Prep 14 Augusta Prep 0
Holy Spirit pitched a shutout against the Augusta Prep with a 14-0 win. The Cougars, despite injuries, were able to keep a disciplined Cavaliers team out of the end zone and make the most of their limited possessions. Holy Spirit FB Andy Moots and his brother, QB Robby Moots, along with Will Jacobs, led the way behind senior lineman William Opperman and Ryan Casey. Will Jacobs had an explosive night for the Cougars with 118 yards rushing and 1 touchdown. The Cougars had 266 yards of offense. The Cavaliers had an effective passing attack towards the ends of the game which ended with the a tip by senior linebacker Todd Jones into the waiting arms of safety Sean O'Connell who wisely hit the ground to let the offense run out the clock.
Both teams played hard for 4 quarters and the outcome was never assured until the final whistle blew. When reached for a comment HSP Head Coach Jim Falcetti said "I expected a night of their flex-bone versus our wish-bone enough to put everyone to sleep. It turned out to be one of the most exciting nights of the season. We're very proud of our boys staying focused for 4 quarters
HSD Panthers 26 Freedom Academy 12
Force vs Falcons
Georgia Force 17 North Georgia 0
Matt Atkerson kick a field goal in the second quarter to give the Force a 3-0 lead, then just before halftime Tevin Austin broke loose on a couple of exciting runs that led to a short touchdown run for Austin and a halftime lead of 10-0. In the fourth quarter, the talented running back, Austin, again broke loose for a touchdown after starting one way and cutting back across field to outrun the Falcon defense.
Game results for Friday, Sept 30th

Georgia Force 31 East Atlanta 7
The Mustang defense held the Georgia Force to a 30 yd field goal, by Clay Mote, in the 1st quarter. However, th eForce's David Allan had a 15 yd return after an interception which led to a 2 yd TD run by Andrew Justus (Force 10 Mustangs 0). Patrick Page of the Force then recovered a fumble deep in Mustang territory that led to a 16 yd TD pass from Andrew Justus to Caleb McBee to make the score 17-0 at the half. In the 4th quarter, Page scored on a 2 yd run by Patrick (Force 24 Mustangs 0) and the final Force touchdown was a 9 yd run by Brandon Sullivan (Force 31 Mustangs 0). The Force defense held the Mustangs scoreless until the last minute of the game. The Mustangs 60 yd drive was anchored by a 27 yd pass from Khadyle Curry to Pat Smith and finally a 10 yd TD pass to Kenneth Wimberly. Final score 31-7.
Anderson Cavaliers (blue) versus Holy Spirit Prep in Anderson, SC
Holy Spirit 32 Anderson 6
Christian Heritage 41 HSD 6
By Dave Gordon (Dalton Citizen newspaper)
Austin Lowe pounded out 146 yards and three touchdowns, including a 52-yard run that broke the game open with 3:34 to play in the first half, en route to Christian Heritage's 41-6 win over visiting HSD Panthers on Friday night. Jake Stokes gained 91 yards rushing on 13 carries, grabbed three passes for 45 yards and made three trips to the end zone. Brian Pierce provided a 41-yard punt return to set up Stokes' 16-yard screen pass from quarterback Trevor Brown with 47 seconds left in the second quarter. It was a team effort all the way — the Lions' defense also proved to be too much for the Panthers, holding them to a mere six points and 142 yards of total offense. "It was a mixture of Jake and Austin," Lions coach Preston Poag said. "Trevor did a good job at quarterback, and Pierce ran the ball hard. We've got some playmakers, and all young players. We did a great job this week staying on our blocks." Stokes started off the scoring for the Lions in the first quarter, capping a seven-play, 3-minute, 14-second drive with a 16-yard scamper around the left end to make it 6-0.
On the Panthers' first drive, quarterback Gerald Fraylon took a keeper down the right sideline 55 yards to the end zone, only to be called back because of a holding penalty. It would turn out to be the Panthers only scoring opportunity of the half.
Lowe effectively put the game away for the Lions, shaking off tacklers on a 33-yard run with 9:54 in the second quarter to put the Lions up 13-0.
"The whole offensive line did a great job," Lowe said. "They had a lot of big lineman, and our line destroyed them up through the linebacker level. We came out ready to play." He also added a 22-yard plunge up the middle to cap the scoring with 4:21 left in the fourth quarter. When the Lions weren't scoring, their defense was coming up with big plays, forcing the Panthers to punt on six possessions and gathering two fumble recoveries. It was the first time this season that Christian Heritage had played games on consecutive weeks, and Poag said he was delighted with his team's effort. "You could tell tonight we are starting to jel a lot better, and that's big with a young team when you can play every week," Poag said. "You can tell each week these guys work hard. The whole week I stressed to them that we had to take care of business and cut down on mistakes. The bunch we have, it's not many, but they are dedicated and I'm proud of them."
North Georgia 20 Freedom Academy 6
In the 2nd quarter the Freedom Academy Cowboys scored on a Caleb Killough to Matt Dennison 5 yard touchdown pass to take a 6-0 lead. The touchdown was set up when the Cowboys took over after a bad snap on a punt by the Falcons. Early in the 3rd quarter the Falcons finally got on the scoreboard on a 29 yard run by Cody Ricketts. Ricketts had intercepted a Cowboys pass a few plays earlier. On their next possession, the Cowboys were attempting to punt when the snap to the punter went over his head and the Falcons recovered at the 3 yard line. Zane McDaniel then went the final 3 yards for the score. After Jack Edman kicked the extra point, the score was Falcons 13 Cowboys 6. In the 4th quarter, the Falcons stopped the Cowboys on a 4th down attempt and several plays later the Falcons scored their final touchdown on a McDaniel one yard run. Edman was successful again on the extra point kick and the final score read Falcons 20 Cowboys 6.
Augusta Prep 35 Bethlehem Christian 7
Augusta Prep hosted their only regular season home game on Saturday. It was their Homecoming. The Cavs built a 28-0 lead at half time and won 35-7.
Game results

Rabun Gap 22 Anderson Cavaliers 15
Georgia Force 30 Augusta Prep 9
Andrew Justus, of the Georgia Force, threw a 10 yd TD pass to David Allan with 8:43 left in the 1st qtr after recovering their own onside kick to open the game. Augusta Prep then marched down the field and scored on a 57 yd TD pass on a fake punt with 4:28 left in the 1st qtr. Andrew Justus scored on the next drive with a 31 yd TD run and added the 2 pt conversion to take a 15-7 lead with 3:09 left in the 1st qtr. Cody Crandall had a 52 yd interception to give the Georgia Force a 22-7 lead going into halftime. Augusta Prep recovered their own onside kick to start the second half but had to turn the ball over on downs. The Force then marched back down the field aided by a 51 yd run by Clay Mote and capped it off with a 13 yd pass by Andrew Justus to Andrew Jarnagin. Tevin Austin scored on the 2 pt conversion making it 30-7 with 5:32 left in the 3rd quarter. Augusta Prep began a 9+ minute drive down the field, but the Force defense held them at the 1 yard line preventing a score. The Force took over on downs at their own 1 yard line and Augusta Prep scored on a safety making the final score 30-9.
Christian Heritage 31 Unity Christian 21
HSD Panthers 14 North Georgia 10
It had been a rainy day in Georgia, but lightning struck with 27 seconds to go at the HSD-North Georgia game as Gerald Fraylon pass to Sam Hardie went for 61 yards and a touchdown to give the Panthers the win. The Falcons took the opening kickoff and marched down the field on 9 plays, but had to settle for a field goal of 27 yards by Jack Edman to lead 3-0 with 5:39 left in the firs quarter. The Falcons had several opportunities to extend their lead including another field goal attempt, but were unsuccessful. HSD received the 2nd half kickoff and on the first play, Fraylon ran 78 yards for a touchdown. The extra point kick was good and HSD led 7 to 3. The Falcons took the lead with 2:28 left in the game after driving 71 yards in 18 plays. Zane McDaniel scored from the 1 yard line. Michael Payne added the extra point to make the score 10 to 7. After the Falcons kicked off, the Panthers took over at their 32 yard line. On third down, lightning hit and the Panthers had their first win of the season.

Game Results for Fri, Sept 16th
Augusta Prep 31 Anderson Cavaliers 21
Young Americans 26 East Atlanta 0
Lancaster Christian (TN) 41 Freedom Academy 0
Holy Spirit Prep 20 Georgia Force 6
In the battle of unbeaten teams, Holy Spirit Prep was able to defeat the Force, who had been unbeaten and had not given up a point in their first 4 games. The option offense of the Cougars, led by QB Georga Maranville, were able to score twice (once by Maranville and once by RB Luke Voss). The Cougars added two field and two extra point kicks by Luke Whelan.
Skipstone Academy 18 North Georgia 13
The Falcons fell behind midway thru the second quarter, 6-0, then 12-0 with seconds to go before halftime, fumbled the kickoff to start the second half and 3 plays later Skipstone scored to make it 18-0. North Georgia players could have quit at this point, but that wouldn't happen. The Falcons took the kickoff and march down the field scoring on a Zane McDaniel to Caleb Russell pass of 13 yards. Michael Payne added the extra point kick, making the score 18-7. On the Falcons next possession, the Falcons took 5 plays to score as the combination of McDaniel to Russell this time went for 48 yards. The extra point attempt failed, but the score was then Skipstone 18 North Georgia 13. The Falcons got the ball back at the 34 yard line and this time were able to move the ball all the way to the 20 yard line, but couldn't score again and feel short 18 to 13.
Game results for Fri, Sept 9th
Christ Church 42 Augusta Prep 0
Augusta Prep Cavaliers traveled up to Greenville, SC to play Christ the Church School who are ranked in the top 10 in the South Carolina Class A. "Our kids had the great opportunnity to play against a first class organization with a lot of tradition and success" said Head Coach Harry Bacheller. "It was a chance for them to see where we want to get to one day". Augusta Prep hung in there for a quarter, just down 7-0 but lost some momentum with some key mistakes of fumbles and penalties. Christ the Church's quarterback, who is being looked at by North Carolina, returned to the field after missing last week, and accounted for all five of his team's touchdowns. "They had almost 60 kids on their team and just wore us down". "Our kids did some good things but we are just not at their level yet" added Bacheller.
Ga Force 24 Christian Heritage 13
The Force running back, Tevin Austin, led the way with 136 yards on 14 carries with a pair of touchdown runs, including a 62-yard sprint that cut the Lions' lead to 7-6 a little more than a minute after Christian Heritage scored in the first quarter on an Austin Lowe 1 yard touchdown. The Force took a 9-7 lead on a field goal near the end of the period which was set up by an interception at the Christian Heritage 37.
A touchdown pass in the second quarter put the Force up 16-7 by halftime. Austin added his second score in the third quarter, then the Force ran a reverse for the two-point conversion and had a 24-7 lead going into the final period. The Lions Lowe's second touchdown run, from 10 yards out, came with 4:45 to make the final score, 24-13.
Holy Spirit Prep 42 HSD Panthers 0
Jonah Raus led the way for the Cougars with 3 touchdowns, 1 receiving, 1 returned punt and 1 returned interception. FB Andy Moots, RB Todd Jones and QB Georgia Maranville all added touchdowns. Defensively, Andrew Aggripina forced a fumble for the second week in a row.
East Atlanta 22 North Georgia 19
In a see-saw battle, the Mustangs were able to hang on for the win. East Atlanta scored first after Ken Wimberly intercepted a pass on the 3rd play of the game. It took East Atlanta 4 plays to score as Pat Smith scored on a 14 yard run. The extra point kick was good to make the score 7-0 at the 8:13 mark of the 1st qtr. North Georgia took the kickoff and scored on its 5th play when Zane McDaniel scored on a 1 yard run. The kick was good by Zach Dirksen to make it 7-7. In the 2nd quarter, Falcon's Caleb Russell intercepted a pass and scored from 45 yards to make it 13-7 as the extra point kick was no good. This was the score at halftime.
East Atlanta took the second half kickoff and on the 3rd play FB Dakota Allgood rambled 40 yards for a touchdown. The extra point kick was good and with 10:38 left in the 3rd qtr, the Mustangs led 14-13. With 6:57 left in the 4th qtr., Caleb Russell again put the Falcons up when he ran 19 yards for a touchdown. The 2-pt attempt was no good and the Falcons led 19-14. The Mustangs took the kickoff and in 7 plays marched down the field to score on a 35 yard touchdown run by Justin Glover. Orande Barrow added a 2-pt conversion on a run to make the score 22-19 East Atlanta with 4:13 left in the game. North Georgia took the kickoff and drove down to the 26 yard line, but failed to score after 3 pass plays were incomplete. On 4th down, the Mustangs intercepted near the goal line and ran out the clock.
Game results for Fri, Sept 2nd
East Atlanta 26 HSD Panthers 13
Force RB Tevin Austin #21 breaks loose for long run
Ga Force 31 Freedom Academy 0
After 3 games, the Georgia Force are unbeaten but more impressive is the fact that they have yet to give up a point. The Force defense held strong again against the Freedom Academy Cowboys. Matthew Thomas had two fumble recoveries, Marques Freeman had one, Matt Atkerson had an interception and Andrew Jarnagin had both a fumble recovery and an interception. Not to be outdone, the offense has begun to put a lot of points on the board. RB Tevin Austin had 185 yards rushing and two TDs. Austin has led the Force the past two years in rushing. Matt Atkerson kicked a 38 yd field goal. Andrew Justus added 58 yards rushing in the 2nd half, and connected on a 36 yd TD pass to Clay Mote.
QB George Maranville (#10) leads Holy Spirit offense against North Georgia
Holy Spirit 39 North Georgia 0
The precise execution on offense by Holy Spirit Cougars led to a complete blowout of the North Georgia Falcons. The Cougars, led by QB George Maranville, scored on every possession that they had the ball. FB Andy Moots, RB Todd Jones, RB Luke Voss, RB Ryan Casey and Maranville each had a touchdown run while backup QB Robby Moots connected with Wide Receiver Jonah Raus on a 21 yard touchdown pass to complete the scoring. Raus also kicks extra points and was good on 1 of 4 attempts. Maranville was successful on a two-point conversion.
The Falcons couldn't get anything going on offense as 4 of their starting lineman were injured and without many replacement players, they were unable to stop the Cougars.
Game Results for Friday, Aug 26th & Sat, Aug 27th

Augusta Prep 22 East Atlanta 12
Christian Heritage 49 Freedom Academy 30
By Dave Gordon sports@daltoncitizen.com
A fast and furious first quarter marked the season opener for Christian Heritage, however defense took over in the second half as the home team rollled to a 49-30 victory over Freedom Academy (Ala.) at Christian Heritage Field. But early on, nothing was faster than Lions sophomore Jake Stokes.
On special teams and on the offense, Stokes put on a show with long kickoff returns and scoring runs. He had two rushing touchdowns, a kickoff return for a score and another kickoff return to set up a score in the victory that actually saw the Lions trailing 18-14 at the half.
"We had some freaky things happen in the first half," said Lions' coach Preston Hoag. "We turned the ball over there a couple of times. We've got to hang on to the ball a little better."
Although the teams are Glory For Christ Football West Division foes, the teams will meet again later this season for the league game. However it was the defense that came up big in the second half and thwarted lengthy drives by the Cowboys that the visitors could never recover from. Sophomore quarterback Trevor Brown capitalized on those defensive stops, scoring on a 9-yard run and hitting Will Fisher for a 39-yard scoring pass that effectively put the game out of reach for Freedom. Seth Defoor added another rushing touchdown for the Lions in the second half, giving Poag his first head coaching victory.
The Lions put up 21 points in the fourth quarter with a number of punishing runs that left the defense on their heals. "I think our defense was never able to defend them and get them stopped. The only stops we got were turnovers," Cowboys' coach Kyle Collins said, "We were better tonight than we were last week, and we'll keep getting better. We just couldn't find the right combination on defense tonight."
Freedom (0-2) quarterback Michael Adcock took the opening kickoff 73 yards to the Lions nine-yard line, then punched in a 3-yard touchdown on the fourth play of the game to make it a 6-0 lead. The next play looked like deja vu as Stokes took the ensuing kickoff 65 yards to the Freedom 30. Stokes then took a handoff, swept around the end and drove into the end zone to make it 7-6 Lions after the opening possessions for each team. After another running score by Adcock capped a 68-yard, 2 minute 36 second drive, highlighted by a 39 yard catch from Lawrence Isles, making the score 12-7 Cowboys with 4:26 left in the first quarter.
Another 'let's see if you can top this' kick return, courtesy of Stokes to the tune of 91 yards, left an impression on the Cowboys' special teams and added six more to the scoreboard, making it 14-12 Lions. Freedom came back with a quick scoring strike to wideout Matt Dennison from Adcock, but a blocked extra point by the Lions' Michael McKinney made it an 18-14 contest, which is how it would stay for the rest of the first half. A key sack at the end of the harried first quarter by sophomore linebacker Chris Smith, coupled by an interception by Ian Robbins, gave the ball back to the Lions. However, they couldn't capitalize, fumbling the ball into the end zone and relinquishing it to the visitors. Multiple turnovers plagued both squads, as Christian Heritage committed three, opposed to four for the Cowboys.
Georgia Force 45 Holy Ground 0
The Georgia Force defense looked strong all night against Holy Ground. Clay Mote had three sacks, Marques Freeman had a sack and numerous tackles, and fumble recoveries were made by Chris Webb and Robert Mele. Tevin Austin led the offense with two TD runs (39 yds and 2 yds), Blake Tate had a 4 yd TD run and Clay Mote added a 1 yd TD run. Two big plays were a 56 yd TD pass from Matt Atkerson to Caleb McBee. Nathan McNeil had a kickoff return called back due to a penalty. Finally, Brandon Sullivan added a 31 yd TD run late in the game.
Game Results for Friday, Aug 19th & Sat, Aug 20th
Holy Spirit Prep 46 Freedom Academy 29
George Maranville, quarterback, for Holy Spirit Prep ran for 189 yards and 5 touchdowns to lead the Cougars past the Cowboys. The Cougars finished with over 370 yards of offense. Holy Spirit led 34 to 14 at half in a high scoring battle.
East Atlanta running back #44 Daniel Compton (with ball) runs against NCA as Mustangs' Dakota Allgood looks to block someone.
East Atlanta Mustangs 34 NCA Saints 6
The Mustangs, from Conyers, started their 2011 season strong by defeating the NCA Saints, from Woodstock. East Atlanta got on the board with a 1 yard touchdown run by Dakota Allgood in the 1st Quarter. In the 2nd Quarter the Mustangs added an 8 yard touchdown run by Dion Smith and a 3 yard touchdown run by Daniel Compton to lead 21-0 at the half. The Mustangs added a 3 yard touchdown run by Garrett Ferguson in the 3rd Quarter and a 1 yard touchdown run by Khadyle Curry in the 4th Quarter. With Caleb Carter hitting 4 of 5 extra points, the score was 34-0 until the Saints scored on a long pass with under a minute to play.
Georgia Force 18 Dawson Street Christian Wildcats 0
The Force, once again, showed the great defense they are know for each year as they shut out Dawson Street in their opening game. The Georgia Force defense looked strong all night with several fumble recoveries and an interception that was returned 40 yards for a touchdown by Blake Tate. Marques Freeman, Tevin Austin and Clay Mote led the defense in tackles. On the offensive side, Andrew Justus threw a 24-yd TD pass to Blake Tate with 5:23 left in the first quarter and Tevin Austin caught a 19-yd pass for a TD late in the 4th to seal the game at 18-0.
Game time for the Anderson Cavaliers (blue) and the North Georgia Falcons!
North Georgia Falcons 14 Anderson Cavaliers 12 (3 OT)
In a wild 3 overtime game, the Falcons prevailed by stopping the Cavaliers QB on the 2 point conversion. During the game, the Falcons had several scoring opportunities, but could only score with 5:48 left in the game when Zane McDaniel scored from the 1 yard line. The Cavaliers scored late in the 3rd quarter when defensive end, Jamond Thomason, picked up a fumble and took it to the house. Zach Dirksen scored on a 1 yard run in the third overtime and Zane McDaniel added the 2-point conversion that gave the Falcons the lead. The Falcon's big play in the drive was a 24 yard pass from McDaniel to Matt Howard.
_______________________________________
Games schedule for Friday, August 19th & Sat, August 20th
Dawson St Christian at Georgia Force
The Force start their season against the Dawson Street Wildcats. The Force is coming off a great season where they finished second in the GFC, playing in the Championship game. The Force lost 17 players from last year's team including 3-year starters at quarterback, running back, linebacker (2), center and safety. Dawson Street plays in another league (GISA) and should be a good test for the Force.
North Georgia at Anderson (non-div)
North Georgia travels to Anderson, South Carolina to play the Cavaliers at the home field & football movie favorite "Radio". The Cavaliers won their first game and are looking to keep their win streak going. North Georgia begins their battle to defend their GFC title, although this game does not count in the GFC league standings.
Freedom Academy at Holy Spirit (non-div) Saturday
In another game between GFC teams that doesn't count in the standings, Holy Spirit Prep Cougars host the Cowboys from Freedom Academy. The Cowboys are from Huntsville, Alabama and play in the West Division of the GFC. Holy Spirit Prep, from the north part of Atlanta near Sandy Springs, should provide some stiff competition.
Mount Vernon at Christian Heritage (Scrimmage)
_________________________________________
Anderson Cavaliers defeats Carolina Crusaders 18-8
The football season started successfully for the Anderson Cavaliers as they beat the Carolina Crusaders from the Rock Hill, SC area, who play in the Pioneer Football League.
_________________________________________
Anderson Cavaliers Roster
# Player Name
2 Seth Gurley
3 Jamond Thomason
5 Jaylen Copeland
10 Corey Adams
11 Luke Gibson
14 Brandon Fuller
15 Nathaniel Guire
22 Wesley Ellisor
23 Preston Daw
27 Thomas Settle
28 Jordan Kelly
30 Haeden Secor
36 Kolby Looney
55 Alex Prescott
61 Malachi Gibson
63 Bruce Elder
64 Tyler Stribling
65 Craig Autry
73 Ben Touchton
74 Isaac Johnson
75 Brennon Adams
76 Correy Graham
83 Jesse Fisher
86 John Mark Skipper
88 Jacob Van Donkelaar
____________________________________
Augusta Prep Roster
# Player Name Offense Defense
2 Franklin Sims WR DB
5 Nate Pylant RB DB
7 Steven Vinson WR DB
9 Jack Owen QB DB
27 Jonathan Long WR DB
34 Patrick Reynolds RB DB
35 Nolan Brandon RB LB
37 Rafay Chaudray TE DE
38 Andrew Smith RB DE
42 Kevin Huggins RB DL
52 Jake Padgett OL LB
54 Michael Lopez RB DL
58 Alex Hunt OL DB
59 Whitt Rutland TE LB
61 Ben Burnside OL LB
66 Sam Cleary OL DL
67 Charley Hagist OL DL
75 John Kitchings OL DL
76 Michael Downing OL DL
77 Miles Waring OL DL
88 Jonathan Grickis WR DL
89 Ashtone Revello OL DE
____________________________________
Christian Heritage Roster
# Player Name Offense Defense
1 Brian Pierce RB DB
2 Zachery Owens WR DB
3 Chris Finley WR DB
7 Trevor Brown QB DB
8 Michael McKinney TE DE
10 Evan Suddeth WR LB
11 Nick Bartley WR DB
12 Will Fischer WR DB
14 Brady Souther QB DE
16 Jakes Stokes QB DE
20 Connor Atwood TE DL
22 Austin Lowe RB DB
32 Ian Robbins WR DB
34 Jonathan Bolden FB LB
40 Spencer Robbins WR DB
45 Seth Defoor OL LB
50 Hershel Beene OL DL
52 Chris Smith OL LB
55 Harrison Kranzlein OL DL
62 Quinton Slade OL DL
63 Hutch Swafford OL DL
65 Evan Townsend OL LB
67 Nate Higdon OL DC
70 Derrell Christian OL DL
72 Josh Stone OL DL
77 Logan Gazaway OL DL
80 Ricky Gomez OL DL
88 Logan Mashburn WR DB
____________________________________
East Atlanta Mustangs Roster
# Player Name Offense Defense
1 Dakota Allgood RB LB
2 Kenneth Wimberly WR DB
3 Garrett Ferguson RB LB
7 Talmadge Broome TE LB
10 Khadyle Curry QB DB
12 Brandon Green TE LB
14 Pat Smith WR DB
17 Andrew Green QB DB
18 Isaiah Spencer WR DB
23 Dion Smith RB DB
24 James Donnelly QB DB
25R/26W Justin Glover RB DB
32 Woo Soung Northrop QB DB
36 Orande Barrow RB LB
40 Jonathan Ford RB LB
44 Daniel Compton RB LB
46 Jonathan Ring RB LB
52 Isaiah Emerson OL DL
55 Will Blount OL DL
56 Michael Harris OL LB
57 Robert Domergue OL LB
62 Caleb Carter OL DE
64 Ryan Woodall OL DE
67 Michael Bodin OL DL
69 Jaelynn Norman OL DL
70 Tony Taylor OL DE
72 Dalton Chappelear OL LB
74 Andrew Taylor OL DL
75 Devin Bacon OL LB
80 Levi Richardson TE DE
82 Jamari Talley WR DB
84 Colin Ring TE DE
85 Brian Adams WR DB
____________________________________
Freedom Academy Roster
# Player Name
1 Aaron Gokman
2 Caleb Killough
11 Chad Clay
21 James Davis
22 Michael Adcock
23 Gary Hamner
31 Johnny Kryminski
32 Joey Lawrence
33 Sammy Reynolds
34 Ben Reeb
41 Luke Hamner
42 Brady Franks
43 Colby Randolph
44 James Williams
50 Jake Hill
51 Gaelen Clark
52 Kemper Gokmen
53 Noah Cain
61 William Moffatt
62 Earl Wells
64 Silas Clark
71 Matt Edwards
72 Jack Dooley
73 David Dunbeck
81 Lawrence Isles
83 James Jones
94 Robert Gordon
95 James Spivey
96 Matt Dennison
___________________________________
Georgia Force Roster
# Player Name Offense Defense
1 Daniel Charles WR DB
2 Jacob Harper K
3 Lucas Scher RB DB
4 Blake Tate WR DB
5 Andrew Justus QB DB
6 David Allan WR DB
7 Matt Atkerson QB DB
8 Michael Bardsley RB LB
10 Jason Allan WR DB
21 Tevin Austin RB LB
22 Brandon Sullivan RB LB
24 Zach Fleischman RB DB
25 Bryson Nobles WR DB
30 Cody Crandall RB DB
31 Matthew Thomas RB DL
32 Patrick Page RB LB
33 Clay Mote RB DL
40 Carson Csoka RB LB
47 Marques Freeman RB LB
54 Andrew Hancock OL LB
55 Brenden Laible OL DL
57 John David Mote OL DL
58 Andy Armstrong OL DL
67 Tucker Peeler OL DL
70 Blade King OL LB
71 VJ Harvey OL DL
73 Ethan Leggett OL DL
75 Austin Stewart OL DL
76 Robert Mele OL DL
77 Hayden Souder OL DL
80 Andrew Jarnagin WR DB
83 Caleb McBee TE LB
Jacob Harper
___________________________________
Holy Spirit Prep Roster
# Player Name Offense Defense
3 George Maranville QB OLB
4 Luke Voss RB OLB
5 Robby Moots QB OLB
9 Lucas Whelan K
11 Will Jacobs RB LB
12 Todd Jones TE OLB
15 Kyle Winkler RB CB
22 Jonah Raus WR S
24 Christian Jerrum WR CB
25 Sean OConnell RB CB
30 Andy Moots FB LB
33 Will Gensler G CB
34 Frank Maranville OT LB
44 Ryan Casey G LB
50 Drew Vincent C DE
52 Andrew Agrippina OT NT
55 Taylor Hazen G DE
58 Patrick Higgins G DE
65 Matt Bishop G DT
66 Sam Grisham OT NT
71 David Dimmery C DT
72 William Oppermann OT NT
78 Peter Nagel G NT
____________________________________________
HSD Panthers
# Player Name
3 Samuel B. Hardie
4 Dylann S. Watson
5 Gerald D. Fraylon
7 Ian S. Brown
15 Christopher Rainey
20 Benjamin C. Talley
22 Kenneth M. Caldwell
28 Nicholas M. Matz
47 Ryan Matiak
50 Geoffrey S. Rountree
51 Ronald C. Brown
54 Mark G. Speir
55 Jonathan D. McBrayer
59 Caleb T. Smoak
60 William T. Foran
64 Austin G. Cortez
65 Jeffrey R. Hardin Jr
67 Andrew Hitchcock
70 Jayson T. Gragg
75 Ben Gardner
77 Joshua C. Godfrey
87 Dante Stento
____________________________________________
North Georgia Falcons Roster
# Player Name Offense Defense
2 Nonte Pruitt RB CB
6 Mike Randle RB CB
10 Zach Waddell WR FS
17 Caleb Russell RB/WR SS
20 Jack Edman Kicker
23 Zane McDaniel QB/RB DE
37 Zach Dirksen RB LB
38 Matt Howard TE/HB DE
40 Zach Hurst OL DL
44 Drew Lee RB CB
60 Josh Pack G LB
62 Hunter Brumfield G DE
63 Austin Allen G DT
65 Noah Keeling T/G NG/DT
67 Chris West T NG/DT
75 Tad Dillard C/G NG
77 Gibson Gunter C/T NG/DT
78 Kyle Tatum OL DL
80 Gordon Thigpen WR/RB CB
85 Luke Jarrett TE/HB LB
______________________________________
The GFC West teams are the Christian Heritage Lions (Dalton), Freedom Academy Cowboys (Huntsville, Alabama), HSD Panthers (Paulding county) and North Georgia Falcons.
Christian Heritage is a perennial contender in the GFC and this year should be much the same, however, alot depends on replacing their quarterback as well as several of their wide receivers and running backs.
Freedom Academy joins the GFC after many years of playing an independent schedule. The Cowboys are full of surprises and will come at you with everything they have including a few "gadget" plays.
HSD Panthers are coming off their best season, making the GFC playoffs. The Panthers also will be replacing their quarterback.
It's won't be easy to defend their title and try to 3-peat but the North Georgia Falcons plan to do just that! The Falcons lost 17 players, including 3 year starting quarterback, Tim Howard (now playing for Birmingham Southern) plus both running backs, two wide receivers and field goal kicker, Brett Snyder who will be kicking for Chattahoochee Tech.
The GFC East teams are the Anderson (SC) Cavaliers, Augusta Prep Cavaliers, East Atlanta Mustangs from Conyers, Georgia Force from Sugar Hill and Holy Spirit Prep Cougars from Atlanta.
The Anderson Cavaliers from Anderson, South Carolina have been playing an independent schedule the past few years, but join the GFC this year. The Cavaliers play at Anderson Stadium where "Radio" (the person & movie) is located.
Another new team, Augusta Prep, is in their 2nd year of football. The Cavaliers have their own football field at their campus. Look for the Cavaliers to pull a few surprises.
East Atlanta Mustangs are looking to make good things happen this year. There should be much improvement over last year. After a good spring practice, the Mustangs look like contenders for this year's East Division title.
The Georgia Force is coming off a great season losing in the GFC Championship game and finishing second overall in the GFC regular season. The Force should once again be in the hunt for a championship despite losing over 15 players from last year's team. Replacing a 3 year starter at quarterback, Matt Hardin, will be a priority as well as finding a replacement for David Harley, who seem to score every time he returned a punt or kickoff. Both, Harley and Zavier Thompson (linebacker & center on last year's team), graduated and are playing at St.Mary's in Kansas.
Holy Spirit Prep had a good spring and were almost flawless in their execution at the spring jamboree. The Cougars should be in the mix for the East Division title, but without playing any games yet, anything can happen.
________________________________
Contact Info
Boys, ages 12 to 14 (middle school) and 15 to 18 (high school), who are interested in playing 11 man tackle football, should contact one of the following coaches about playing football this coming fall.
Anderson Cavaliers (Anderson, SC area) call Mike Cousar at 864-933-4432 (HS & MS)
Augusta Prep Cavaliers (Augusta area) coached by Harry Bachellar
East Atlanta Mustangs (Conyers area) contact Joe Blount (head coach) at 770-653-7919 (HS team)
Freedom Academy (Huntsville, AL) contact Brett Hill (AD) at 256-476-8710 (HS and MS teams)
Georgia Force (Suwanee/Buford area) contact Scott Willis (AD) at 404-630-4327 or Steve Riley (head coach) at 678-525-5101 (HS and MS Teams)
Grace Baptist (Hiram area) contact David Blankinship (AD) at 770-596-9936
HSD Panthers (west Cobb, Paulding and Douglas counties) call Jim Castle 404-915-8516 (HS team)
Holy Spirit Prep (Sandy Springs/Atlanta) call Jim Falcetti at 678-904-2811
North Atlanta Saints (Dunwoody, Sandy Springs area) call Eric Braswell at (404)210-3592 or braswell.eric@gmail.com
North Georgia (Cherokee, Forsyth, Pickens and north Fulton county areas) call Roger McDaniel at 678-313-6034 (HS and MS teams)
_____________________________________
David Harley #40 and Zavior Thompson #44 (both former Georgia Force players) are teammates for Saint Mary's football team in Kansas.
Former Georgia Force player, David Harley, scored a touchdown for the University of Saint Mary on Saturday, Sept 24th when he recovered the football and ran 1 yard for a touchdown after a bad snap of a punt. It was the first score of the day for Saint Mary which went on to win 34-13. David plays slot back and is on special teams. He is a freshman who received a scholarship to play football and plays along with former Force player, Zavior Thompson, for Saint Mary which is in Levenworth, Kansas. Congratulations David!
_____________________________________
Former North Georgia Falcons, Brett Snyder, kicked a 33 yard field goal in the second overtime to win the game for Chattahoochee Tech against Orangeburg-Calhoun Tech (SC) 23-20. Yeah Brett!
_____________________________________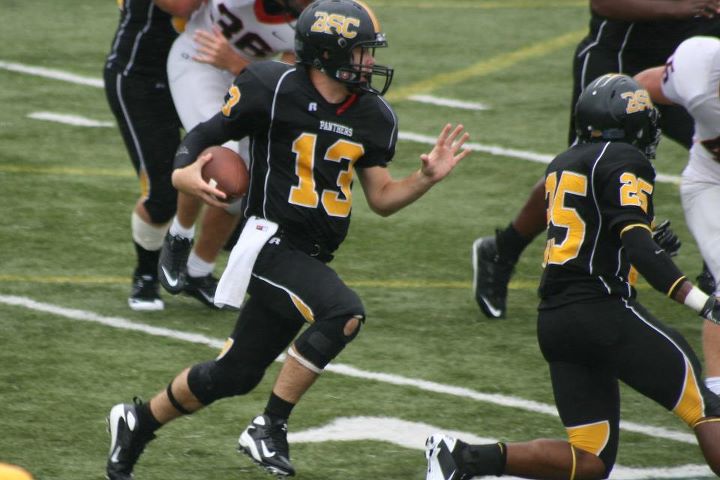 QB Tim Howard #13 above
Former North Georgia Falcons quarterback, Tim Howard, a freshman at Birmingham Southern University, plays QB for the unbeaten Panthers.
__________________________________
Robert Davis (#50 in white plays inside linebacker) is a former Falcon player and John Bodin (#65 in red plays guard on offense) is a former Mustang player. Shown above at G-day (Georgia Bulldogs spring game last Saturday). Congrats to both of them! Just shows that playing in the GFC prepares you to play at the highest level of college football.
___________________________________
Random pictures from previous GFC seasons



_____________________________________

2011 GFC Spring Jamboree
Holy Spirit (green) scrimmages against North Georgia
East Atlanta (burgundy) scrimmages against North Georgia
The GFC Spring Scrimmage was held Saturday at the home field of the Georgia Force. Five GFC teams (East Atlanta, Freedom Academy, Georgia Force, Holy Spirit Prep and North Georgia) participated and one thing was clear after watching over 3 hours of competition, this season will be very interesting. Very interesting because any of these 5 teams could win the GFC Championship and we haven't seen what the other GFC teams have yet! The defenses ruled the day, but that is to be expected as teams only have had a short period of time to put their offense together. However, every team showed they could move the ball and have good talent. Also, with a month of practice in August, we will see a season full of close games and plenty of surprises!